The HTC 10 is not a large departure from the metal-body build of it's predecessor, the HTC One M9. The difference is the quality in this phone. It's heavier, prettier, and has a much better display than the previous model with 561ppi vs 441ppi.
The aluminum unibody design of the M9 was already pretty good, but the 10 takes it to a new level. Typically, a weightier mobile device signifies a step backwards in terms of technology, but the 10 feels sturdy. The curved Gorilla Glass display is wrapped in an attractive bezel formed into the aluminum unibody, and feels very protected.
Being a podcast provider, audio is of utmost importance to Slipstream Network. Verizon is touting a new quality of audio with many of it's phones called HD Voice. HD Voice comes already activated on the 10 and allows for a much higher quality of phone call over wifi or cellular data. Mobile browsing and data usage can be simultaneously used while using HD Voice over wifi.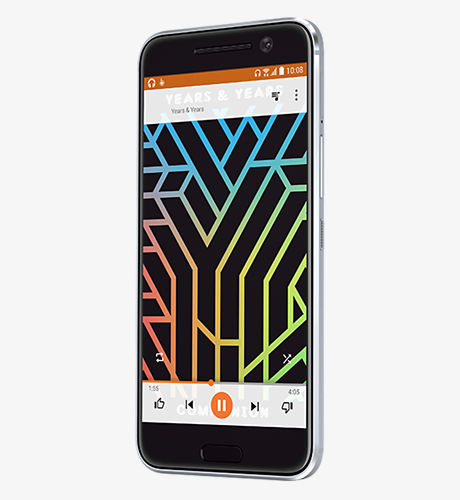 In addition to HD Voice, another treat for audiophiles and podcast connoisseurs is the trademark HTC BoomSound Hi-Fi edition speakers proudly flaunted on the device. The 24-bit DAC and dedicated amplifiers on the 10 have forced the company to redesign the layout of the speakers, now featuring a separated tweeter and woofer design like most high-end audio systems. These features coupled with the high-res earphones that come with the 10 are a welcome reprieve from the every-day, run-of-the-mill audio systems found on most phones.
The front-facing camera is something special for anyone who takes enough selfies to care about quality. Coming in at 5 mega pixels, the front-facing camera is one of the best on the market. The back-facing camera, a 12MP BSI sensor featuring laser autofocus, is very quick and has a valuable optical image stabilization systems that ensures a clear shot even in dynamic conditions.
The rest of the specs are quite strong as well. The speedy Qualcomm Snapdragon 850 is strong enough to power even the most processor-straining mobile games. It's fast enough to keep games like Need For Speed No Limits and Real Racing 3 from slowing down, an area where alot of phones still struggle!
While more specs can be found at the end of this post, the main take aways for any mobile reporter or race fan are the build quality, sound quality, and speed of the HTC 10. The Gorilla Glass and sturdy metal unibody design keeps drop anxiety away while at the track. The cameras are fast and dynamic enough to capture great shots on the fly and the sound quality is unrivaled in the mobile market.
The HTC 10 can be purchased at $648.00 from the online Verizon Wireless store. Verizon is also running an opportunity to get up to $300.00 back on device activations with more information available here.
Photos: Verizon